Messy Yoga Mom, 02-22-22: "Autism and ADHD Organization"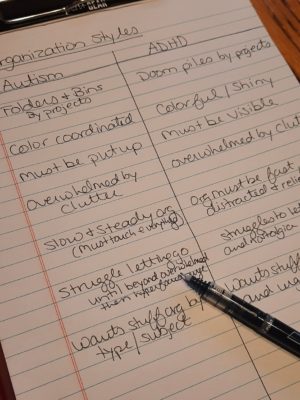 One of my goals for 2022 is to make our house feel like a home. Our home.
One of our biggest struggles as a collection of messy individuals is organization.
I sat down today to compare my organizational desires and needs with my struggles with Autism and ADHD.
There is overlap, which is a great place to start. Both look project/subject organization, they just can't agree on binds/folders of doom piles
Both also need to have work visible. It is literally out of sight out of mind with me, so swapping out draws for clear binds and shelves will be a must.
Finally, clutter and piles are beyond overwhelming. Reducing paperwork, nick nacks, and supplies is a top priority.
Honestly, my office is the most disorganized room in the house, minus the girls' toys. Getting a handle on this room would definitely important our quality of life exponentially.
Do you struggle with organizing?